Overview
The plantar fascia is a thickened fibrous aponeurosis that originates from the medial tubercle of the calcaneus and runs forward to form the longitudinal foot arch. The function of the plantar fascia is to provide static support of the longitudinal arch and dynamic shock absorption. Individuals with pes planus (low arches or flat feet) or pes cavus (high arches) are at increased risk for developing plantar fasciitis.
Causes
The cause of plantar fasciitis is often unclear and may be multifactorial. Because of the high incidence in runners, it is best postulated to be caused by repetitive microtrauma. Possible risk factors include obesity, occupations requiring prolonged standing and weight-bearing, and heel spurs. Other risk factors may be broadly classified as either extrinsic (training errors and equipment) or intrinsic (functional, structural, or degenerative). Training errors are among the major causes of plantar fasciitis. Athletes usually have a history of an increase in distance, intensity, or duration of activity. The addition of speed workouts, plyometrics, and hill workouts are particularly high-risk behaviors for the development of plantar fasciitis. Running indoors on poorly cushioned surfaces is also a risk factor. Appropriate equipment is important. Athletes and others who spend prolonged time on their feet should wear an appropriate shoe type for their foot type and activity. Athletic shoes rapidly lose cushioning properties. Athletes who use shoe-sole repair materials are especially at risk if they do not change shoes often. Athletes who train in lightweight and minimally cushioned shoes (instead of heavier training flats) are also at higher risk of developing plantar fasciitis.
Symptoms
When a patient has plantar fasciitis, the connective tissue that forms the arch of the foot becomes inflamed (tendonitis) and degenerative (tendinosis)--these abnormalities cause plantar fasciitis and can make normal activities quite painful. Symptoms of plantar fasciitis are typically worsened early in the morning after sleep. At that time, the arch tissue is tight and simple movements stretch the contracted tissue. As you begin to loosen the foot, the pain usually subsides, but often returns with prolonged standing or walking.
Diagnosis
Plantar fasciitis is one of many conditions causing "heel pain". Some other possible causes include nerve compression either in the foot or in the back, stress fracture of the calcaneus, and loss of the fatty tissue pad under the heel. Plantar fasciitis can be distinguished from these and other conditions based on a history and examination done by a physician. It should be noted that heel spurs are often inappropriately thought to be the sole cause of heel pain. In fact, heel spurs are common and are nothing more than the bone's response to traction or pulling-type forces from the plantar fascia and other muscles in the foot where they attach to the heel bone. They are commonly present in patients without pain, and frequently absent from those who have pain. It is the rare patient who has a truly enlarged and problematic spur requiring surgery.
Non Surgical Treatment
In many instances, plantar fasciitis can be treated with home care. Changing your physical activities, resting the foot, and applying ice to the area are common remedies. Taking over the counter medications such as ibuprofen or acetaminophen can help reduce pain and inflammation that may have developed. An orthotic device placed in your shoes can also significantly help to reduce pain. In addition, orthotics can also help promote healing to reverse plantar fasciitis. If pain from plantar fasciitis continues despite conservative treatments, you may need to visit a doctor or podiatrist. It's important to seek medical advice before heel pain and damage becomes worse. If the condition is allowed to worsen, more serious or invasive forms of treatment may be required to stop pain. A visit to a doctor may reveal other conditions affecting the foot as well, such as Achilles tendonitis, heel spurs, or other heel pain conditions. An x-ray may also be taken, which can reveal the presence of a heel spur. In rare cases surgery may be required to release tension on the plantar fascia, or to remove a portion of a heel spur. But again, most heel pain conditions can be resolved using conservative treatment.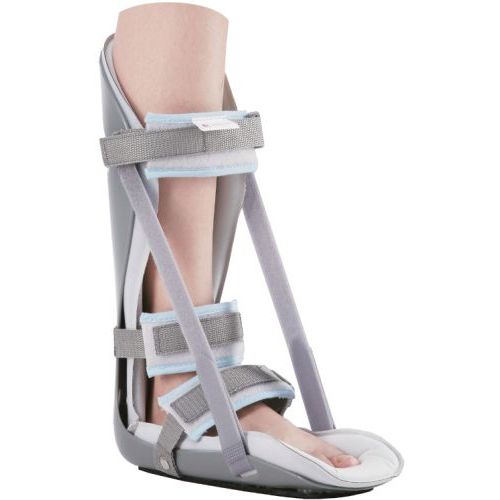 Surgical Treatment
Like every surgical procedure, plantar fasciitis surgery carries some risks. Because of these risks your doctor will probably advise you to continue with the conventional treatments at least 6 months before giving you approval for surgery. Some health experts recommend home treatment as long as 12 months. If you can't work because of your heel pain, can't perform your everyday activities or your athletic career is in danger, you may consider a plantar fasciitis surgery earlier. But keep in mind that there is no guarantee that the pain will go away completely after surgery. Surgery is effective in many cases, however, 20 to 25 percent of patients continue to experience heel pain after having a plantar fasciitis surgery.